Lancaster Products has introduced design enhancements to the K-Series High Shear Counter Current Mixer line. Through our continuous improvement initiatives our engineers identified various areas of design refinement focused on improving our customer's maintenance experience, reducing manufacturing time and enhancing the mixer's overall design. We are featuring our new and enhanced discharge assembly design.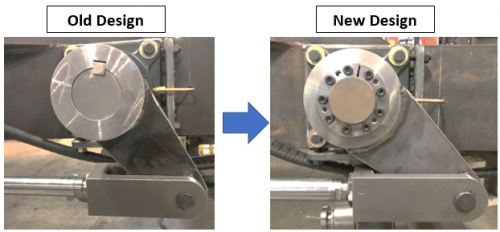 Keyless connections
Lancaster Product engineers created a simple yet elegant solution to improve the discharge valve design by moving from a keyed assembly to a keyless locking device. The new design is less complex than its predecessor and performs better than the previous discharge style. The new keyless connection enhances performance over the old design and will be easier to maintain and service.
read more

Lancaster Products
920 Mechanic Street
Lebanon, PA 17046
Local: 717.273.2111
Toll Free: 800.447.7351
© Lancaster Products

Introducing Lancaster Products High Shear Counter-Current Mixer Recipe Development, the first in a category of posts designed to provide insight into our deep experience in developing thousands of pelletized and granulated formulations over the past 30 years.
We develop custom recipes or mix designs for our customers that are rooted in our deep mixing and pelletizing experience. Because every customer's materials, parameters and processes are different, each requires a unique mix design. In performing proof of concept testing, we have worked with our customers on a wide variety of materials and binder combinations across many different industries. While specific formulations belong to our customers, we have learned a tremendous amount from our experiences with various materials and we wanted to highlight the science that goes into every formulation developed by our materials processing engineers.
read more
High shear counter-current mixers from Lancaster Products simply employ the most effective mixing technology available.
Features
Game Changing Mixing Technology
Applications
Materials Processing
Performance Features
The Most Effective Mixing Technology
Download the Lancaster Products High Shear Counter-Current Mixing Technology Brochure
read more