Lancaster Products AutoBrik Machine includes integrated pre-pug mill/feeder, adjustable hydraulic press and pushout, and an internal mold strike off.
A brick made in a Lancaster Products AutoBrik Machine is a soft-mud brick created individually in wooden molds with a light sanding as a coloring and release agent. Water can also be used as a release agent, producing "water-struck" brick. This individual molding, combined with the unique Lancaster mold bumping system, can produce a very distinctive brick in high demand by architects and builders alike.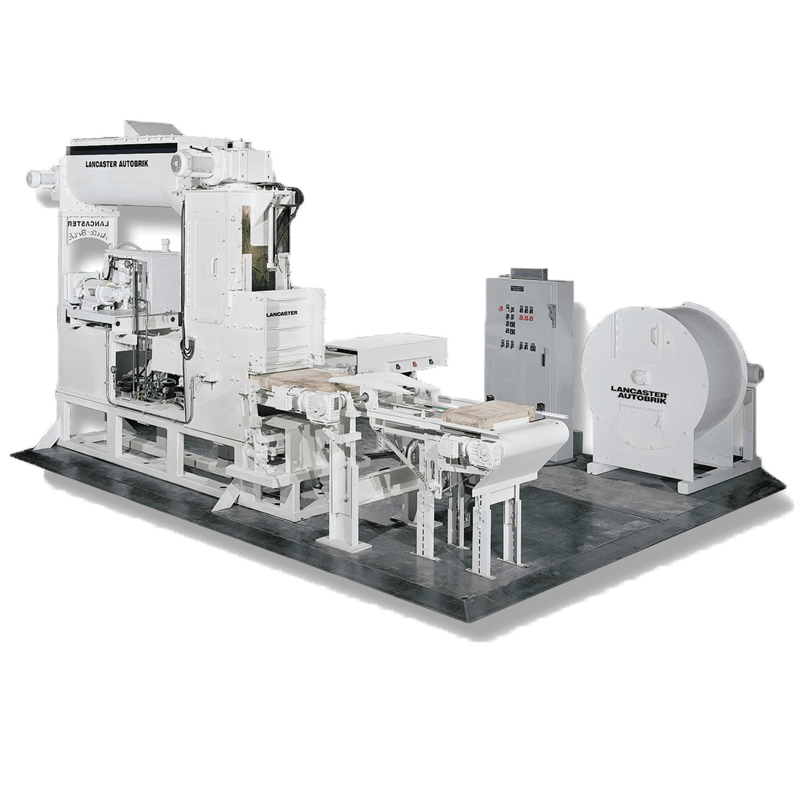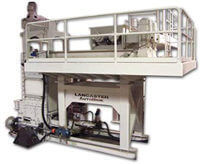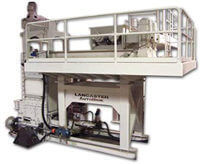 The Model 24H Lancaster AutoBrik Machine was completely redesigned in early 2000 and has subsequently had several highly successful installations. This design reduces maintenance costs and improves total operating efficiencies while maintaining the molded brick style that brick markets have come to appreciate and that brick producers have found so profitable for over 150 years.
The complete Lancaster AutoBrik Machine (ABM) Production System is under the control of an Allen Bradley/Siemens PLC based Lancaster Control System. The system has PLC controlled linear hydraulic action for the press, the pushout, and the demolding system. Individual VFD motor action has replaced the single source mechanical power of previous designs.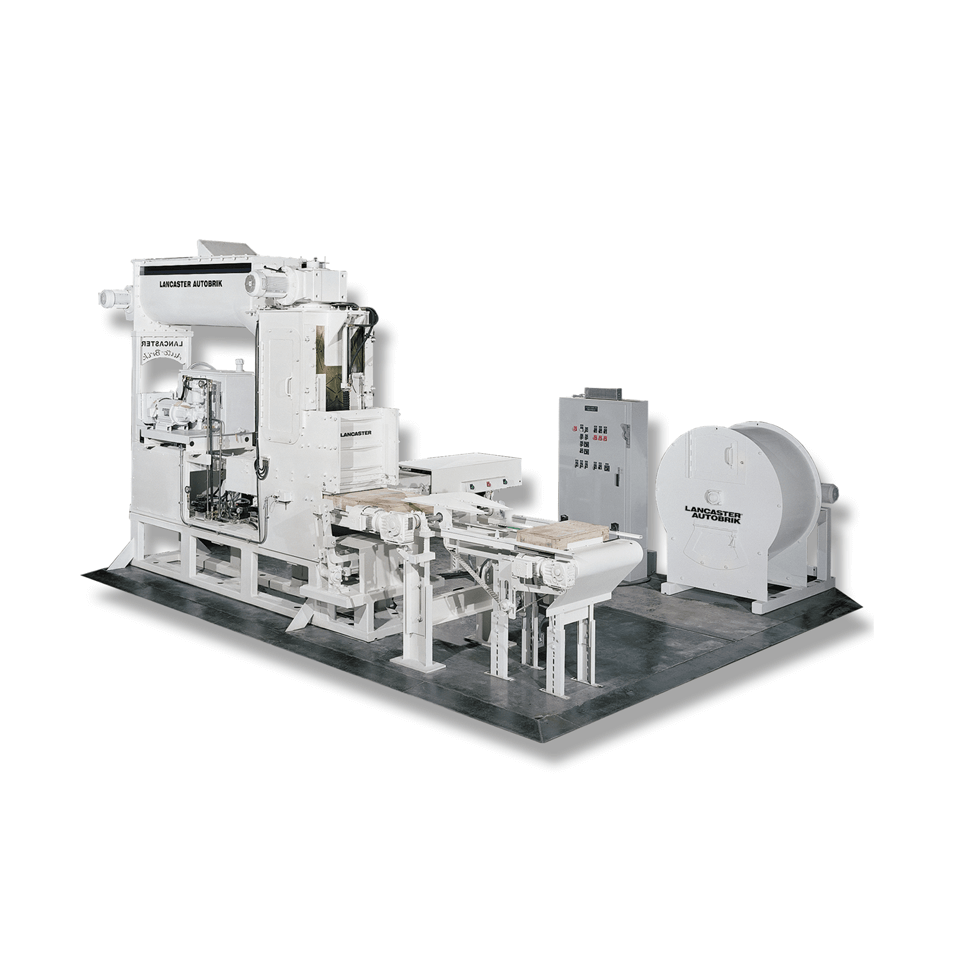 The Model 24H Lancaster AutoBrik Machine comes standard with an integrated pre-pug mill/feeder, adjustable hydraulic press and pushout, and an internal mold strike off.
The Model 24H is a PLC controlled, hydraulic operation. The PLC and simple mechanical movements allow for quick and easy adjustments to change shapes and optimize quality and production. The Model 24H accommodates very large mold boxes and can use the PLC control to fill difficult shapes by performing multiple press box fills and multiple presses. The Model 24H can be offered as a completely automated system with mold handling, pallet insertion, and dryer car loading.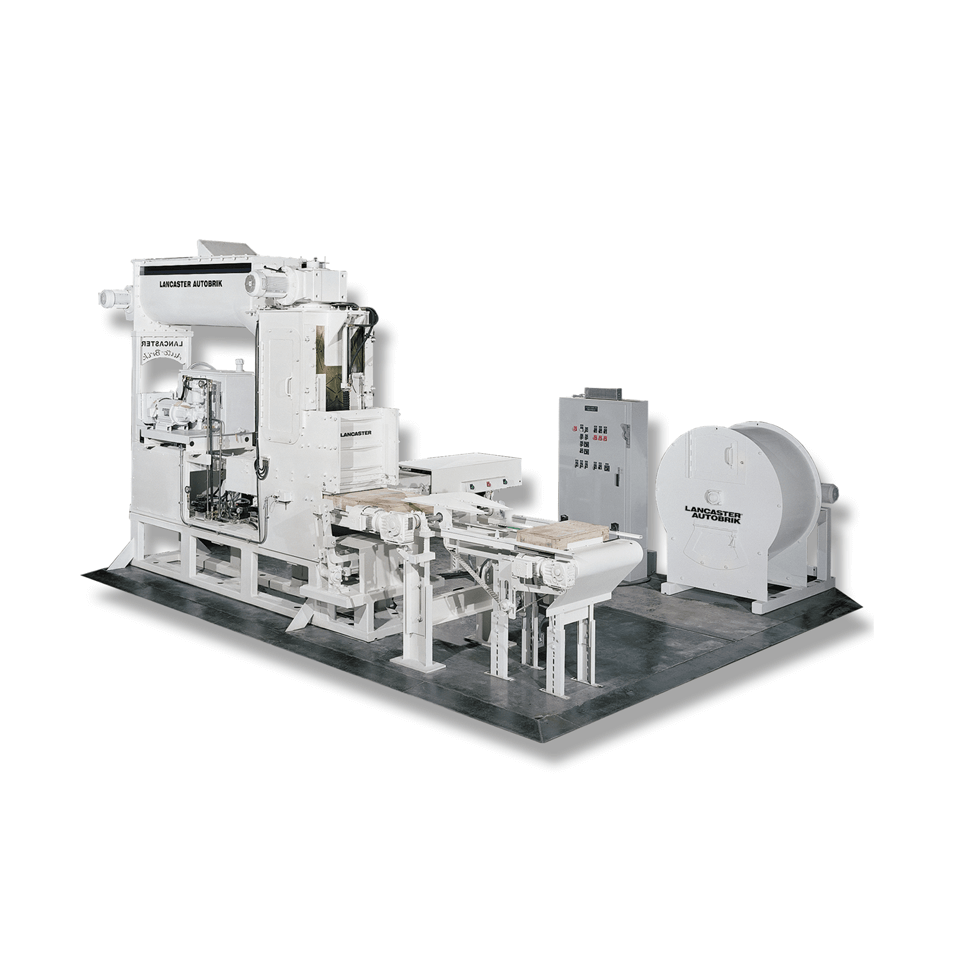 Lancaster Products
920 Mechanic Street
Lebanon, PA 17046
Local: 717.273.2111
Toll Free: 800.447.7351
© Lancaster Products
Many fertilizer processing facilities were originally setup with 5 or more large pieces of processing equipment systematically connected with conveyors for a minimum of 9 pieces of equipment to convert raw materials into fertilizer. The amount of work, energy, and maintenance that goes into maintaining a complex system like this is very costly.
Lancaster Products can optimize existing fertilizer pelletizing plants or establish new fertilizer processing facilities. Our counter-current, high shear mixers have several product and operating advantages over the complex, traditional systems.

read more
Since the introduction of the original K-series mixer in 1986, Lancaster Products High Shear Mixers have been designed to produce the best mixing and pelletizing results for our customers. Lancaster Mixers superior performance is due to our multi-tool configuration, counter current mixing action and variable tooling speed capability.
Multi Tool Configuration
Lancaster Mixers can be configured with three independent variable speed mixing tools: the mixing rotor, the plow and the rotating pan. These three tools work in concert to provide the best mixing results. The primary mixing tool is the high-speed rotor. The plow and rotating pan both work to move material into the main rotor's path. The three mixing tools are so efficient at mixing, there are no dead spots inside of the mixing cavity and every piece of material passes through the mixing rotor every few seconds. Additionally, a sidewall scraper is positioned against the pan sides to prevent caking and buildup of material on the pan itself.
read more