Privacy Policy
Lancaster Products (https://www.lancasterproducts.com) respects your privacy and the purpose for which our site visitors provide us information. We do not share, sell, or rent any of the information collected to any third parties and do not intend to do so in the future.
Information Collected
We receive both information that is directly provided to us, such as personal information you provide when you visit our website or submit information to us, and information that is passively or automatically collected from you, such as anonymous information collected from your browser or device. In this Privacy Policy, we refer to all of this as the "Information".
If you request or submit information to Lancaster Products by sending an e-mail via the "mail to:" function or filling out an online form, we may save your e-mail address as well as any other information you may provide. This information may be used to contact you in the future by mail, e-mail, or phone to convey information about Lancaster Products' solutions or services that we feel may benefit you. Your e-mail and other information you provide will not be sold to any third party.
Information Collected by Others
This notice addresses only the policy of this website and not the sites that users access via links from our site. Lancaster Products is not responsible for the information collection policies, neither for other sites, nor for the practices employed by websites linked to or from our website. Lancaster Products is not responsible for the information or content contained therein. Often, links to other websites are provided solely as pointers to information on topics that may be useful to our visitors. Users are advised to review the privacy policy of other websites.
Cookies
We may use cookies in certain situations where they help to provide a better user experience, such as to remember settings, preferences and usage of our website. We may also use analytics tools that utilize cookies in order to provide us with information about how you use and interact with our website.
Updating, Correcting, and Deleting Personal Information
If you would like to have your personal information removed from Lancaster Products please send an e-mail via the feedback form, with "Remove personal information" in the subject line. To update, change, or correct your personal information, please send an e-mail via the feedback form with the appropriate changes.
Legally Compelled Disclosure of Information
Lancaster Products may disclose information when legally compelled to do so; in other words, when we, in good faith, believe that the law requires it or for the protection of our legal rights.
Periodic Policy Changes
Please note that Lancaster Products reviews its privacy practices from time-to-time (i.e. to track technology and/or legal changes), and that these practices are subject to change. To ensure continuing familiarity with the most current version of our privacy policy, please bookmark and periodically review this page. This policy statement is made in the name of Lancaster Products and is effective as of August 19, 2020. This statement does not create an agreement between Lancaster Products and users, and as such, does not create any legal rights for any party.
For inquiries, contact: Lancaster Products, 920 Mechanic Street Lebanon, PA 17046
Email: [email protected]

Lancaster Products
920 Mechanic Street
Lebanon, PA 17046
Local: 717.273.2111
Toll Free: 800.447.7351
Email: [javascript protected email address]
Office Hours:
Mon - Fri: 8:00 am - 5:00 pm
The high-speed rotor is the primary mixing and pelletizing tool in industrial high shear mixers and in many ways, it is the most utilized part of the machine. But rotor wear is also a good leading indicator of your machine's overall operating condition as it is a direct result of material processing. Chances are, if the rotor is worn, there is other preventative maintenance to be done.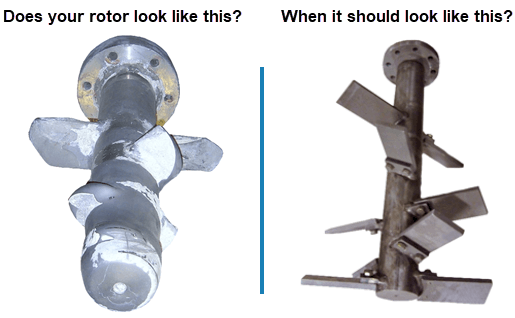 read more
Industrial mixers are built to run and withstand a great deal of abuse, however, regular preventive maintenance efforts can help keep your mixer running like new. The two most critical components that can affect the life of your mixer are lubrication and inspection of working tools. Below is an overview of the in-depth information provided in our full maintenance schedule available for download below.

Lubrication: Proper lubrication can encompass multiple areas on your mixer, not just the shaft seals of the mixing tool. Lubrication of all seals as well as drive gears, discharge valves and other locations where bearings are utilized is the best way to extend the life of your mixer. Automated lubrication systems on larger production mixers help maintain proper lubrication intervals, but regular visual inspection should be scheduled to assure the system is working properly.
read more