Lancaster Products K-Series Mixers' counter-current mixing action is the most effective mixing technique for consistent uniformity, homogeneity and rapid mix time.
Lancaster Products K-Series mixers are the ideal tool for the preparation of powdered materials. Their high intensive action allows for mixing even the most difficult of materials. Powders, slurries, and pastes (with or without water or binders) can be mixed in extremely short cycle times. Dissimilar powders, differing in density and/or ratio in a formulation, are easily blended into homogeneous mixtures.
The K-Series line of mixers excel in producing highly repeatable homogeneous mixes and pellets.
K3-K3.5 High Shear Mixers: [DOWNLOAD PDF]
W

ell-suited for small production work or prototyping

Working Capacity: 2.5 cu.ft (70 L) to 6 cu. ft. (170 L)
K4-K10 High Shear Mixers: [DOWNLOAD PDF]
Larger capacity mixers suitable for high throughput applications
Working capacity: up to 210 cu. Ft/6000L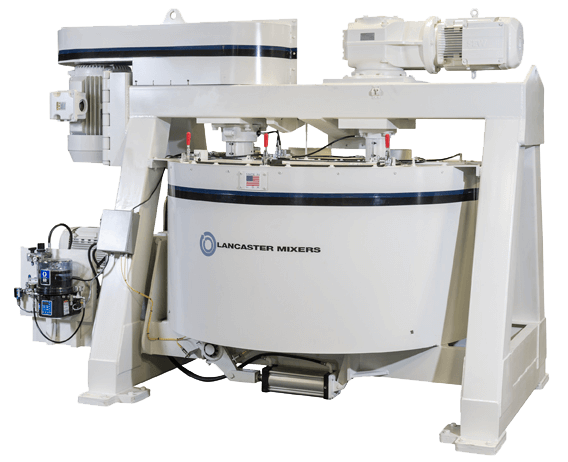 OPTIMIZE YOUR MIXING PROCESS
Whether you are developing a new process or looking to improve a current one, using a Lancaster Products High Shear Mixer can transform your mixing process. Our mixers can be used to achieve multiple objectives, including mixing cycle times, moisture and air entrainment, particle size distributions, yields, surface draw-down, pluming action, and tip speed requirements.
Processing times can be greatly reduced while providing a more homogenous batch (mix) using a Lancaster Mixer.
Free-flowing powders & granular materials can reach the desired homogeneity within 1 minute*
Mix-granulation applications are generally completed within a cycle of 6 minutes or less*
*based on results achieved in both lab and production environments
The counter-current mixing action in all Lancaster Mixers provides:
Minimized quantity of additives used in formulations
Reduced reaction times due to increased surface area and effective dispersion
Consistent, repeatable mix quality from batch to batch
*Partial batches down to 1/3 rated capacity can be handled without affecting mix quality
THE MOST EFFECTIVE MIXING TECHNOLOGY
The Lancaster Products counter-current mixing action is the most effective mixing technology for rapid and consistent uniformity.
Material is efficiently conveyed to the counter-rotating primary mixing rotor, secondary mixing plows and side wall scraper – all strategically placed to deliver maximum material mixing.
Our design allows for increased relative particle velocities and provides countless material exchanges throughout each batch cycle
Our High Intensive mixers allow for individually changing component speeds to add tremendous versatility in meeting almost and material mixing challenge.
WORKS WITH A VARIETY OF DIFFERENT MATERIALS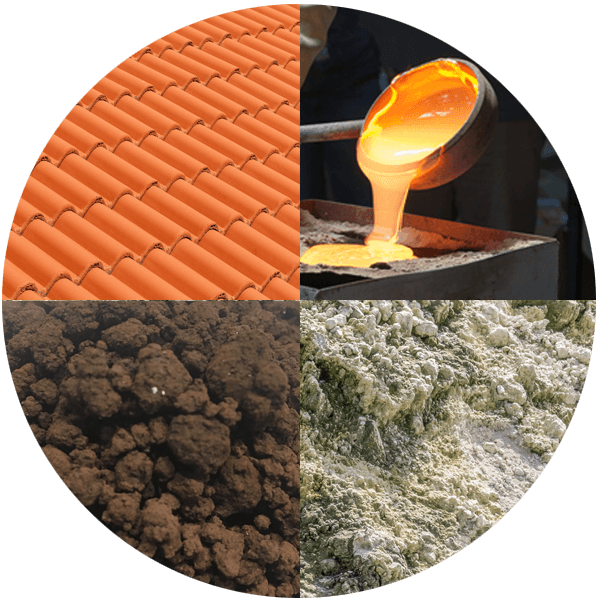 Lancaster Products high intensive mixers handle a full gamut of materials – from powders to slips and slurries, to taffy-like materials with viscosities exceeding 1,000,000 CP.
Blend, pelletize, Granulate, Slurry, Disolve, De-Dust and React – all in the same machine.
There are effectively no dead corners or unswept surfaces where ingredients can lodge. The unique combination of rotating pan, side scraper, and counter-rotating plow effectively eliminates all dead zones.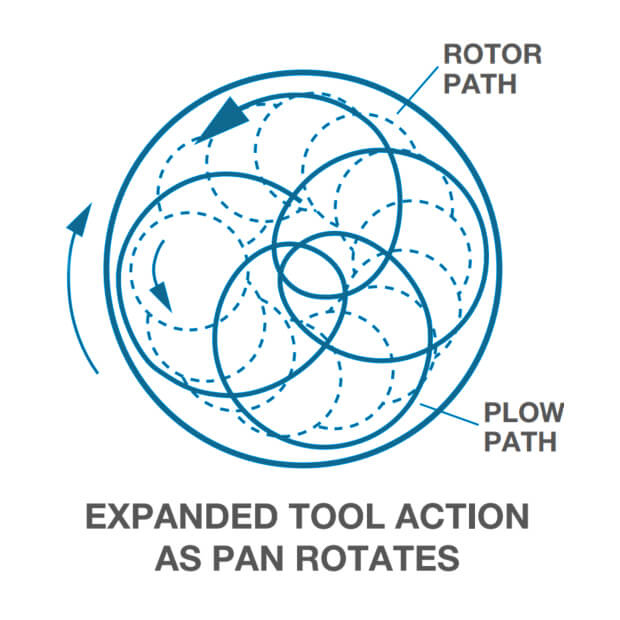 Process times can be greatly reduced while providing a more homogeneous batch. Our experience in both lab and production environments is that free-flowing powders and granular materials can reach desired homogeneity in under a minute.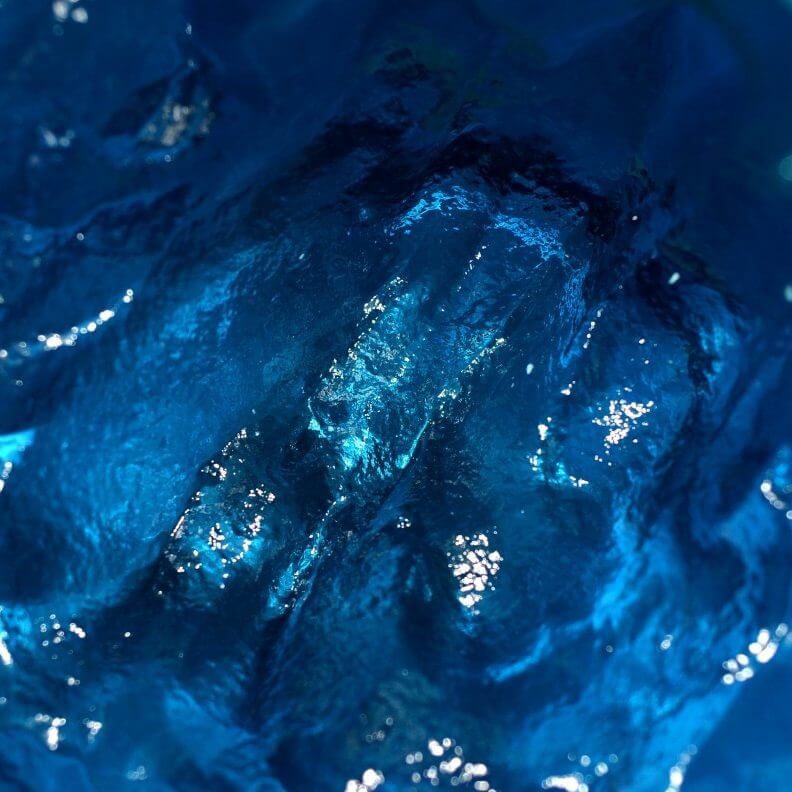 In most cases, because the Lancaster counter-current mixing action is so thorough, less binder materials or water is required.
CONTINUAL MATERIAL REMOVAL
The plow and side scraper also provide for continual material removal from the pan bottom and sidewall surfaces.
Lancaster Application Engineers design toward many goals, including: mixing cycle times, moisture and air entrapment, particle size distributions, surface draw-down, pumping action and tip speed requirements.
The intensity and type of mixing action can be controlled through the use of various style mixing rotors and speeds. Our technology coats pellets, de-fibers, de-lumps, fluffs and slurries.
K-Series High Shear Mixers
Model
Total pan Vol. Cubic Ft.
Approx. Working Volumes*
Approx. Weight in Pounds
Cubic Ft.
Litres
K1-LAB
0.5
0.3
8.5
1,100
K3
5
2.5
70
3,000
K3.5
12
7
198
3,500
K4
25
14
400
6,000
K5
40
24
680
8,500
K6
75
45
1,270
13,500
K7
115
70
2,000
18,500
K8
175
105
3,000
24,000
K9
265
155
4,400
32,000
K10
370
210
6,000
42,000
Actual batch capacity depends on loose bulk density and/or mix consistency
Vertical axis horizontal pan mixing is the preferred design of the Lancaster Mixers. This positive and very efficient design of the pan gear drive ensures that the maximum amount of energy output is imparted into the mixing action. Pan rotation speeds can also be calculated for maximum material process effect without requiring higher speeds to move material to a higher elevation for proper mixing. The horizontal pan provides maximum production volume while minimizing contamination of the upper pan seal. The corresponding horizontal surfaces of our Lancaster Mixers provide easier and more efficient maintenance of the equipment.
The slow speed plows of the horizontal design of our Lancaster Mixers not only enhance the mixing process, but they also provide for continual cleaning of the pan bottom and assist in material discharge. The actions of our plows eliminate the duties of cleaning and discharge by a rotor and a stationary bottom scraper.
The primary mixing element of all Lancaster Products K-Series mixers is the single piece counter-rotating high-speed rotor. The design of the mixing rotor will vary depending upon the particular process requirements.
The single piece base rotor construction helps maintain rotor balance after blade replacement. The rotor is driven by an easily accessible V-belt drive system. The drive motor can be single speed, multiple speed, or variable speed depending upon specific processing requirements. The drive guard fully encloses the top portion of the motor and the rotor spindle.
A high-quality gear-motor drive is mounted on top of the mixer structure. This unit turns the slow speed secondary mixing plows. These wear-resistant plows continually sweep the entire surface of the pan bottom.
This efficient slow-speed sweeping action prevents material from accumulating on the pan bottom and also provide enhanced mixing action and faster mixer discharging.

Lancaster Products
920 Mechanic Street
Lebanon, PA 17046
Local: 717.273.2111
Toll Free: 800.447.7351
© Lancaster Products
BRADLEY PULVERIZER ACQUIRED BY LANCASTER PRODUCTS OWNER
Allentown, Pennsylvania, January 17th, 2020 – Bradley Pulverizer is pleased to announce new ownership. Lancaster Products & Kercher Enterprises' owner Curt Snyder acquired the assets of Bradley Pulverizer through an affiliate effective on January 14th, 2020. Bradley Pulverizer specializes in the design, manufacture, and supply of pulverizing systems for fine and semi-fine grinding of hard, friable, abrasive materials for various applications throughout the world.
read more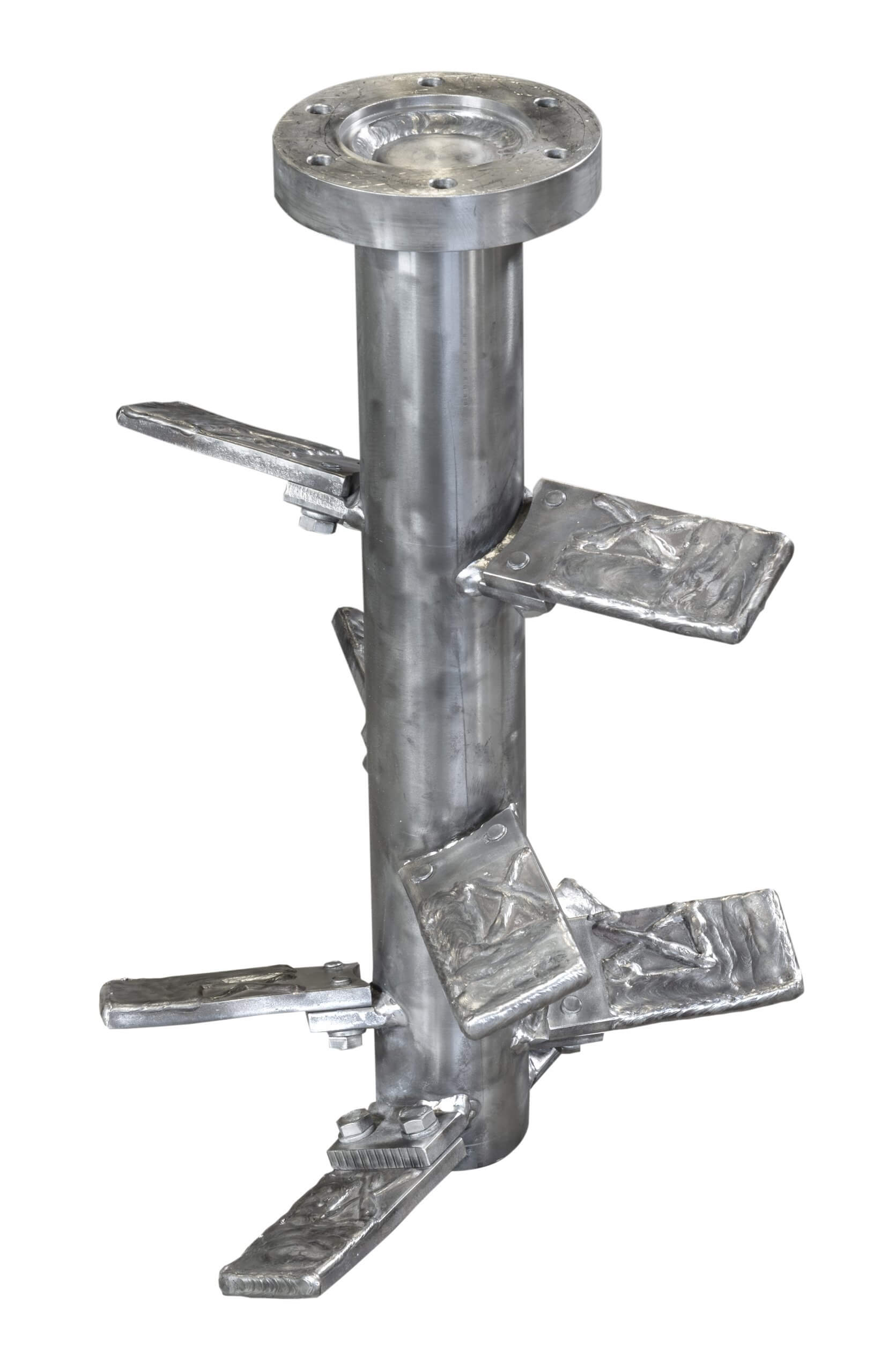 In addition to the rotating pan, all high shear mixers manufactured by Lancaster Products larger than a K3.5 have two independently motor driven mixing tools inside the pan which are responsible for proper mixing, pelletizing, and granulating of materials: the plow and the high speed rotor.  The plow continually sweeps the entire surface of the pan bottom to prevent material from accumulating on the bottom and enhances the overall mixing action.  However, the most important tool of all is the high-speed rotor, which rotates counter direction to the pan causing a shearing action inside of the mixing cavity.  This high-speed rotor not only agitates the mixture, but significantly influences the control of the entire process.  While there are just two main style of standard rotors, we can custom configure the rotor to optimize all mixing processes.
read more