Glass
Lancaster Products High Shear Mixers are used for the batch preparation of various types of glass, such as sheet glass, bottle glass, automotive glass, artisan's glass, and the high-precision, flat panel glass used in the majority of the world's LCD and LED thin glass applications.
The Lancaster Mixer produces granulation of the raw glass batch materials. Granulation of the raw materials can result in reduced melting times in the furnace and an overall reduction of the energy required to melt the raw materials in the glass furnace. Granulation of raw materials can also reduce any demixing problems.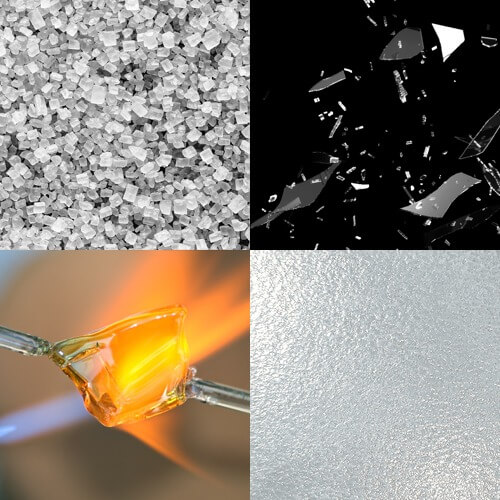 Advantages of Lancaster High Shear Mixers In The Glass Industry:
Reduced mixing times

Higher homogeneity of the end mixture

Reduction in energy required from the melting furnace

Reduced iron contamination due to the reduced wear in the mixer because of the rotating mixing pan used to transport the material into the mixing tool

Consistent mixing of all raw materials, even when they have different densities, particle sizes and grain shapes
A cleaner glass batch preparation process can be produced with the Lancaster Mixer. Reduction of dust and easier handling and transport of the material is accomplished by mixing and blending the glass batch with water in the Lancaster Mixer prior to the introduction to the furnaces.

Lancaster Products Roll Crushers are used extensively by glass manufacturers to reduce recycled glass prior to reintroduction into the furnace.  Our double roll crushers are designed to reduce, in a single pass, material previously requiring primary and secondary crushing for reintroduction into the production stream.

The high intensity mixing action produced by a Lancaster Mixer produces foam glass more efficiently than using a horizontal paddle style blender. This mixing process produces reduced process times and a higher quality mixture. The foam glass is typically used as a light weight aggregate in the building industry.
Call 1-800-447-7351 or Contact Us to talk to a Lancaster Products Representative about your ceramics needs.

Lancaster Products
920 Mechanic Street
Lebanon, PA 17046
Local: 717.273.2111
Toll Free: 800.447.7351
© Lancaster Products
Traditional processes for manufacturing fertilizer require many steps and different types of equipment. It is common for systems to include multiple dryers, a mill/pulverizer for size reduction of dried material, pin mixer/pug mill for mixing of additives and raw materials, a pelletizer and multiple conveyors to facilitate the process. If this seems like a complex process that requires high levels of work, energy and maintenance, we agree.
Lancaster Products engineers can optimize existing complex fertilizer pelleting processes or design new streamlined systems to help you realize multiple benefits, including a reduction in physical footprint and an improvement in the characteristics and reproducibility of your pelletized product. By utilizing a Lancaster Products K-Series High Shear Mixer to replace a mill and disc pelletizer, you not only reduce system complexity but also gain the ability to begin processing with raw materials at higher moisture levels. The counter-current mixing action in a Lancaster Mixer allows for one-step mixing and pelletizing with rapid mix times.

read more
Since the introduction of the original K-series mixer in 1986, Lancaster Products High Shear Mixers have been designed to produce the best mixing and pelletizing results for our customers. Lancaster Mixers superior performance is due to our multi-tool configuration, counter current mixing action and variable tooling speed capability.
Multi Tool Configuration
Lancaster Mixers can be configured with three independent variable speed mixing tools: the mixing rotor, the plow and the rotating pan. These three tools work in concert to provide the best mixing results. The primary mixing tool is the high-speed rotor. The plow and rotating pan both work to move material into the main rotor's path. The three mixing tools are so efficient at mixing, there are no dead spots inside of the mixing cavity and every piece of material passes through the mixing rotor every few seconds. Additionally, a sidewall scraper is positioned against the pan sides to prevent caking and buildup of material on the pan itself.
read more