From proof-of-concept testing to large-scale toll processing, Lancaster Products provides full-scale process lab services.
Lancaster Products is dedicated to process and mix design optimization. Whether you are looking to develop a new process or simply improving existing production, Lancaster Products can help. Our experienced application engineers can design a solution that meets many objectives, including mixing cycle times, binder and minors optimization, homogeneity, particle hardness, moisture, and air entrainment, particle size distributions and yields.
With decades of mixing and pelletizing knowledge that spans across multiple industries coupled with our staff's knowledge and expertise, Lancaster Products can provide a customized solution for you. Quality products need quality materials, and our proof of concept testing provides our clients with a more innovative and efficient process, allowing them to gain a competitive advantage in more ways than one.
We work with our customers to create an optimized mix design by identifying their product & process goals as well as discussing possibilities for improvements with a Lancaster Mixer over other mixing or agglomerating equipment. From granulating or agglomerating to pelletizing, our extensive product testing process ensures our mixer testing will deliver the end results to your exact process specifications. Once the parameters have been defined and proof of concept testing is completed, you'll receive a testing results report in addition to the associated mix design.
The Lancaster Products Guarantee for proof of concept K1-LAB testing: We'll produce a mix design that achieves your goals or testing will be free of charge*.
*Within an acceptable range of size, yield, homogeneity or hardness from predefined criteria set prior to testing.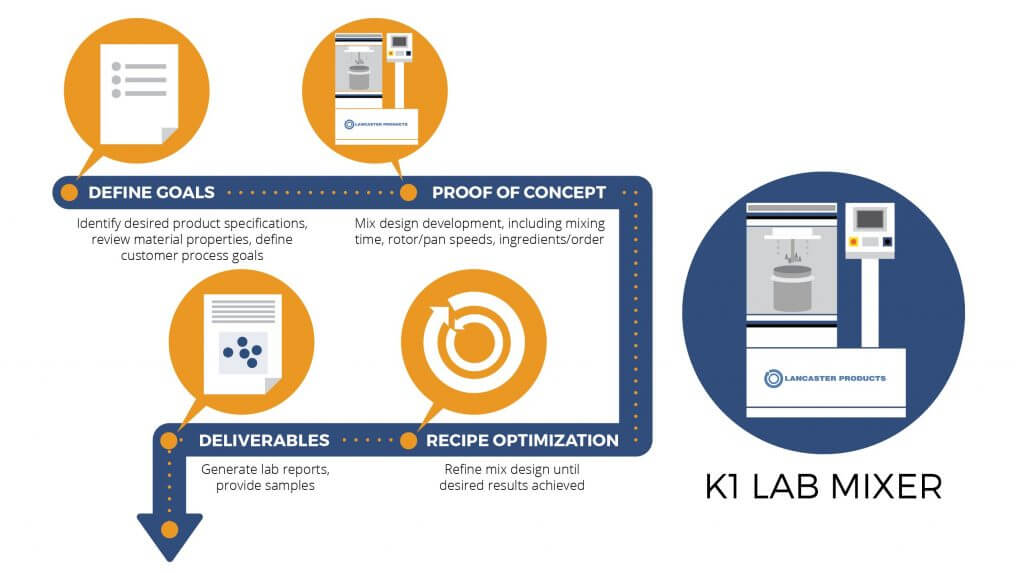 Lancaster Products engineers work with our customers to create an optimized mix design by identifying their product & process goals as well as discussing possibilities for improvements with a Lancaster Mixer over other mixing or agglomerating equipment.
Proof of Concept Testing
Once we've evaluated the customer's process and conducted research regarding the material we'll be working with, we develop the initial mix design for proof of concept testing. This is accomplished through review of our extensive mixing database and utilizing our skilled knowledge of mixing to determine a starting mixing recipe — including mixing time, rotor and pan speeds and ingredient amounts and order.
Scale Up
Once the small scale test is completed, customers have the option to test in a production environment using one of our K4, K5 or K6 mixers. This allows customers to verify that our proof of concept is scalable and achieves the exact same end result when produced in a larger batch. Lancaster Products engineers calculate any necessary adjustments to the mixing recipe to ensure the specified end result is obtained.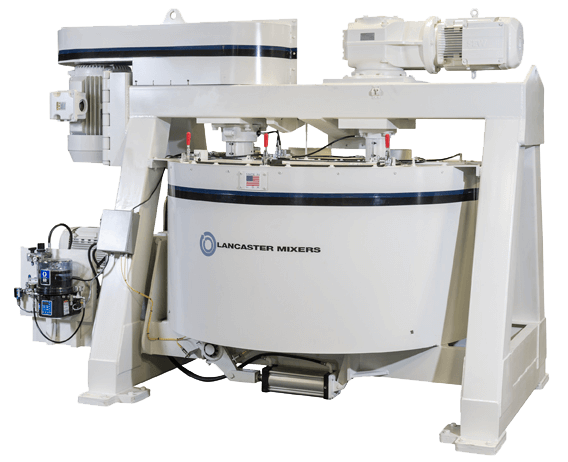 For customers who aren't ready to make the capital investment in a production mixer or need product immediately, Lancaster Products offers toll processing services. We can produce significant amounts of blended, homogenized, granulated or pelletized materials in our facility to satisfy our customers' needs.
We also offer equipment rentals for testing or production. Customers can try equipment in their own facilities over a period of time so other factors related to the equipment itself such as footprint, size, location, electric and air, etc. can be evaluated as well. It is during these test runs that unanticipated issues are often identified and addressed, thus helping in both the proof of concept of the process itself, as well as any equipment modifications that may be required to fit the needs of the application.
Lancaster Products offers a variety of equipment rental possibilities. We have a fleet of K-Series high shear mixers in a variety of sizes from the K1-LAB (0.5 ft. 3 capacity) to the K5 (24 ft. 3 capacity)* that is ready for use by companies looking to run sample processing on-site in their own facility. We offer rental terms of various durations.
*Availability of Equipment may vary.
Call 1-800-447-7351 or Contact Us to talk to a Lancaster Products Representative about your testing or toll processing needs.

Lancaster Products
920 Mechanic Street
Lebanon, PA 17046
Local: 717.273.2111
Toll Free: 800.447.7351
Email: [javascript protected email address]
Office Hours:
Mon - Fri: 8:00 am - 5:00 pm
The high-speed rotor is the primary mixing and pelletizing tool in industrial high shear mixers and in many ways, it is the most utilized part of the machine. But rotor wear is also a good leading indicator of your machine's overall operating condition as it is a direct result of material processing. Chances are, if the rotor is worn, there is other preventative maintenance to be done.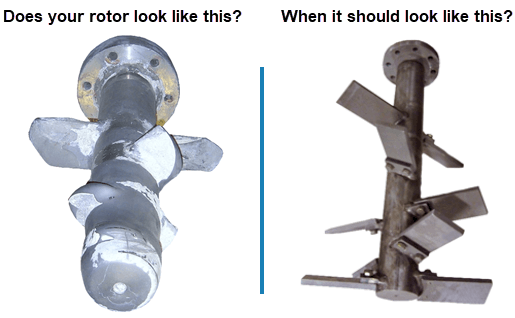 read more
Industrial mixers are built to run and withstand a great deal of abuse, however, regular preventive maintenance efforts can help keep your mixer running like new. The two most critical components that can affect the life of your mixer are lubrication and inspection of working tools. Below is an overview of the in-depth information provided in our full maintenance schedule available for download below.

Lubrication: Proper lubrication can encompass multiple areas on your mixer, not just the shaft seals of the mixing tool. Lubrication of all seals as well as drive gears, discharge valves and other locations where bearings are utilized is the best way to extend the life of your mixer. Automated lubrication systems on larger production mixers help maintain proper lubrication intervals, but regular visual inspection should be scheduled to assure the system is working properly.
read more