Lancaster Products Roll Crushers reduce difficult-to-crush material in a single pass.
Lancaster Products Roll Crushers are designed for long life with a minimum of maintenance. These crushers reduce – in a single pass- material previously requiring primary and secondary crushing. The crushing rolls turn toward each other, confining all crushing to the area where the teeth mesh. Both rolls are timed to rotate at the same speed to maintain a true – and highly effective – crushing action.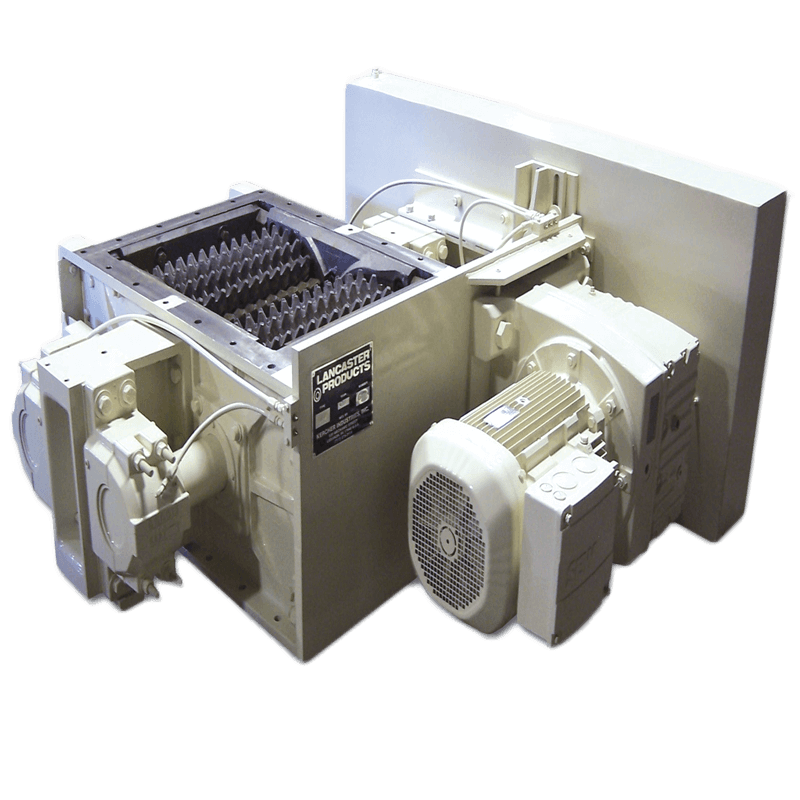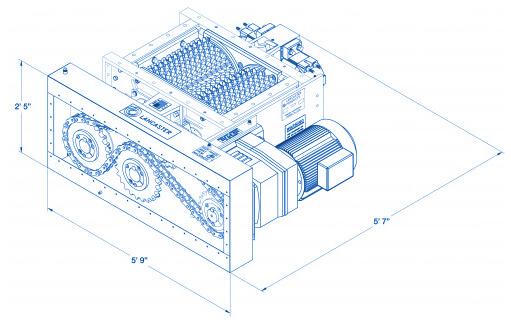 The Lancaster Products Roll Crusher is a compact unit built around a rigid cast frame. It is powered by a VFD gear drive unit. The high alloy steel shafts are driven by a heavy-duty chain operating in an enclosed oil bath. All parts coming in contact with the process material are replaceable and are made of wear-resistant alloys. Replaceable comb plates and cheek plates at the ends and sides of the housing prevent material from bypassing the rolls.
Crushing teeth are cast of a hard and tough alloy in replaceable segments.

The large oversized bearings are outboard, self-aligning and protected by mechanical seals.

Protection from shock loads is provided through the VFD.

Shaft outlets in the frame are equipped with mechanical seal assemblies.

Oversized, sealed, spherical roller bearings are supported by large castings rigidly mounted to the crusher frame castings and remotely located from the crushing area.
Lancaster Products Roll Crusher rolls rotate toward each other, confining all crushing to the area where the teeth mesh.
Both rolls are timed to rotate at the same speed to maintain a true crushing action.

All material entering the crusher pass through the mounted twin shaft rolls.

Since the relative positions of shafts are rigidly fixed, any trapped material will not separate the rolls. This prevents oversize material from passing through the crusher.

Crushed particle size can be varied from ¾ inch to 2 inches by changing the distance between the twin crushing rolls. Top and bottom openings have drilled mounting flanges. The crushing gap is adjustable by shimming the pillow blocks.
LANCASTER ROLL CRUSHER MODELS
Lancaster Model 12 x 18 Roll Crusher

Lancaster Model 48 x 32 Double Roll Crusher

Roll opening: 12″ x 18″

Roll opening: 48″ x 32″

Each roll opening: 24″ x 32"

Drive: 5 HP

Drive: 30 HP

Capacity: Up to 3 ton/hour

Capacity: Up to 60 tons/hour

Lancaster Products
920 Mechanic Street
Lebanon, PA 17046
Local: 717.273.2111
Toll Free: 800.447.7351
Email: [javascript protected email address]
Office Hours:
Mon - Fri: 8:00 am - 5:00 pm
The high-speed rotor is the primary mixing and pelletizing tool in industrial high shear mixers and in many ways, it is the most utilized part of the machine. But rotor wear is also a good leading indicator of your machine's overall operating condition as it is a direct result of material processing. Chances are, if the rotor is worn, there is other preventative maintenance to be done.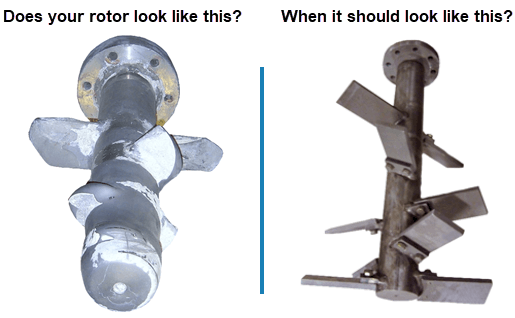 read more
Industrial mixers are built to run and withstand a great deal of abuse, however, regular preventive maintenance efforts can help keep your mixer running like new. The two most critical components that can affect the life of your mixer are lubrication and inspection of working tools. Below is an overview of the in-depth information provided in our full maintenance schedule available for download below.

Lubrication: Proper lubrication can encompass multiple areas on your mixer, not just the shaft seals of the mixing tool. Lubrication of all seals as well as drive gears, discharge valves and other locations where bearings are utilized is the best way to extend the life of your mixer. Automated lubrication systems on larger production mixers help maintain proper lubrication intervals, but regular visual inspection should be scheduled to assure the system is working properly.
read more