Lancaster Products Mixing technology transforms waste streams into valuable products.

---
Lancaster Products High Shear Mixers are used in a wide variety of industries to repurpose waste materials into viable products. Waste materials can be mixed, densified and agglomerated in the same operation – allowing waste materials to be reintroduced into production streams or to be used as a stand-alone or additive in separate products.
Repurposing WASTE material application
Lancaster Products High-Shear Mixers have been used successfully to re-purpose previously discarded materials for use in the development of new products or reintroduction to production streams.  This results in a more environmentally friendly handling of material as well as reducing hazardous waste that is landfilled, stored in ponds etc.
Some applications include:
Pelletizing waste by-product sulfur for fertilizer

Pelletizing carbon black for flowability and better handling

Pelletizing synthetic gypsum for fertilizer

Agglomerating of fly ash for building and road aggregate

Granulating fly ash into cold set ceramic

Repurposing dry scrubber material into  lightweight cat litter

Pelletizing iron oxide dust for re-introduction into production furnaces

Pelletizing raw chicken manure for use in fertilizers.
The high intensive action of the Lancaster High Intensive Mixers provides the opportunity to use relatively small amounts of additive materials needed to transform a waste material. The smaller amounts of additives mean lower production costs when using a more expensive material that may provide added product benefits.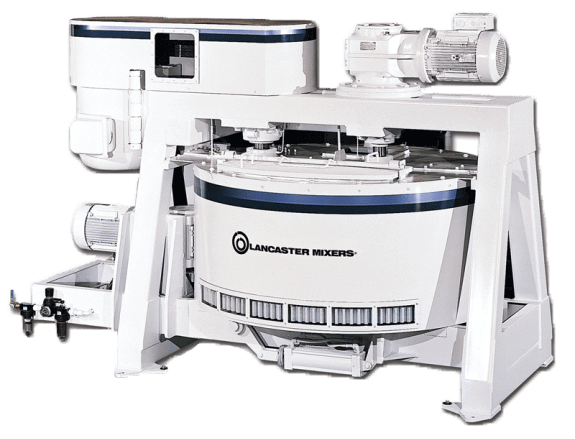 Call 1-800-447-7351 or Contact Us to talk to a Lancaster Products Representative about your waste repurposing needs.

Lancaster Products
920 Mechanic Street
Lebanon, PA 17046
Local: 717.273.2111
Toll Free: 800.447.7351
© Lancaster Products
Many fertilizer processing facilities were originally setup with 5 or more large pieces of processing equipment systematically connected with conveyors for a minimum of 9 pieces of equipment to convert raw materials into fertilizer. The amount of work, energy, and maintenance that goes into maintaining a complex system like this is very costly.
Lancaster Products can optimize existing fertilizer pelletizing plants or establish new fertilizer processing facilities. Our counter-current, high shear mixers have several product and operating advantages over the complex, traditional systems.

read more
Since the introduction of the original K-series mixer in 1986, Lancaster Products High Shear Mixers have been designed to produce the best mixing and pelletizing results for our customers. Lancaster Mixers superior performance is due to our multi-tool configuration, counter current mixing action and variable tooling speed capability.
Multi Tool Configuration
Lancaster Mixers can be configured with three independent variable speed mixing tools: the mixing rotor, the plow and the rotating pan. These three tools work in concert to provide the best mixing results. The primary mixing tool is the high-speed rotor. The plow and rotating pan both work to move material into the main rotor's path. The three mixing tools are so efficient at mixing, there are no dead spots inside of the mixing cavity and every piece of material passes through the mixing rotor every few seconds. Additionally, a sidewall scraper is positioned against the pan sides to prevent caking and buildup of material on the pan itself.
read more