Lancaster Products has introduced design enhancements to the K-Series High Shear Counter Current Mixer line. Through our continuous improvement initiatives our engineers identified various areas of design refinement focused on improving our customer's maintenance experience, reducing manufacturing time and enhancing the mixer's overall design. We are featuring our new and enhanced discharge assembly design.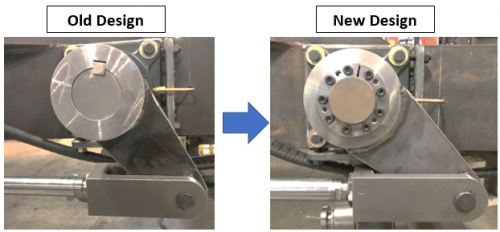 Keyless connections
Lancaster Product engineers created a simple yet elegant solution to improve the discharge valve design by moving from a keyed assembly to a keyless locking device. The new design is less complex than its predecessor and performs better than the previous discharge style. The new keyless connection enhances performance over the old design and will be easier to maintain and service.
read more

Lancaster Products
920 Mechanic Street
Lebanon, PA 17046
Local: 717.273.2111
Toll Free: 800.447.7351
© Lancaster Products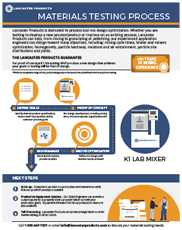 Lancaster Products is dedicated to process and mix design optimization. Whether you are looking to develop a new process/product or improve on an existing process, Lancaster Products can help. From mixing to granulating or pelletizing, our experienced application engineers can design toward many objectives, including: mixing cycle times, binder and minors optimization, homogeneity, particle hardness, moisture and air entrainment, particle size distributions and yields.
read more
January 4, 2019
For Immediate Release

LEBANON, Pennsylvania – The new and completely redesigned website offers visitors richer insight into the Company's high efficiency mixing, pelletizing and crushing solutions for a wide variety of industries and materials.
read more