Lancaster Products Pug Mills simply and economically blend and feed a wide variety of materials and additives.
Lancaster Products Pug Mills are custom designed to meet your exact job requirements. They are available in a variety of construction materials. Lancaster Products Pug Mills are available in sizes ranging from the small 1/20 hp laboratory mixer, up to 300 ton/hour with our large twin shaft production models.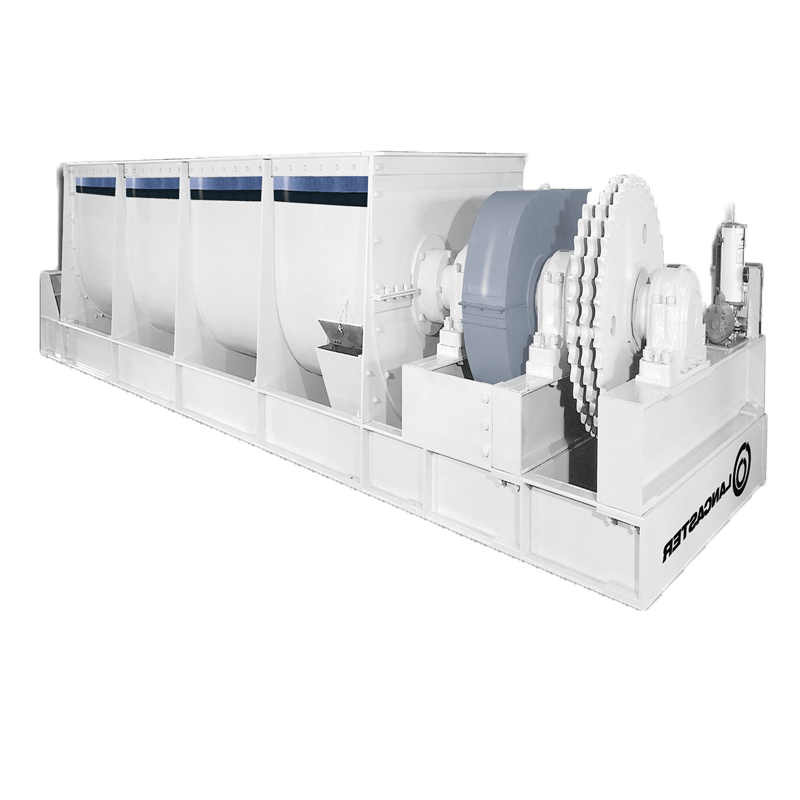 Lancaster Products Pug Mills are designed for continuous operation. Primary materials are introduced to the charging end of the Lancaster Products Pug Mill. The rotating pug mill shaft and blade assemblies mix the materials as they are transported through the pug mill. Additional liquids or other additives can be introduced during the mixing of the materials through the process. The mixed material is continuously discharged from the exit port of the mixer. The Lancaster Products Pug Mill can be used to mix or cool materials as well as transporting materials.
Lancaster Products Pug Mills are rigidly constructed of structural and plate steel. The pug mill shafts and blades are made of high strength alloy steels. Collapsible type wear-resisting blades, replaceable wear resistant liners, and heating jackets are available. Lancaster Pug Mills are individually designed to meet your specific application needs.
The rotating shafts are available in either single or double shaft configurations. The replaceable mixing blades are pitch variable and can be fixed blade or break-away blade construction. The blades are also available in various shapes and materials of construction and coatings.
The Pug Mills are available with a variety of attachments for adding dry or wet additives to the mix or for heating/cooling of the mix. Manual or automatic material storage and handling systems can also be provided.
Quality workmanship and materials result in minimum maintenance and insure trouble-free performance through years of service. From engineering to finished product, Lancaster Pug Mills represent your best value.
Single or double shaft models
High tensile alloy steel shafts
Standard tub, or jacketed for steam, oil or water
Open or closed end types
Round or square bottom troughs with or without covers
Blades are offered in a wide selection of designs and alloys
Selection of right or left side, or end, or bottom discharge
Automatic controls
One piece or sectional wear-resisting trough liners

Lancaster Products
920 Mechanic Street
Lebanon, PA 17046
Local: 717.273.2111
Toll Free: 800.447.7351
© 2019 Lancaster Products
January 4, 2019
For Immediate Release

LEBANON, Pennsylvania – The new and completely redesigned website offers visitors richer insight into the Company's high efficiency mixing, pelletizing and crushing solutions for a wide variety of industries and materials.
read more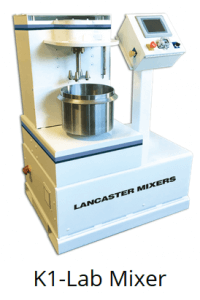 Our last post focused on our experience in concept testing and how it applies to our high shear mixer sample testing process. This post will dig in a little deeper and provide insight into the breadth of data we provide to our customers when they commission Lancaster Products to provide sample testing for them.
Over the past 30 years, we have collaborated with our customers to perform proof of concept testing in our K1 laboratory mixers for thousands of materials samples. The desired outcome of the testing is customer dependent but typical requirements are along the lines of pelletizing/granulating to specific size ranges and desired yields, mixing to achieve homogenization, or reduced reaction times of existing processes. Outcomes provided are 1) proof of concept in achieving the desired product, and/or 2) optimization of the current mix processes. Our engineers perform the tests in our controlled laboratory, log all key information in our database, and share all data with our customers for future reference. Below is a list that summarizes some of the information we collect during every test run we perform:
read more