Lancaster Products K1-Lab Mixer: A new dimension to your mixing and pelletizing process.
The Lancaster Products K1-Lab Mixer is our flagship product used for testing, experimentation, and development of new processes and products. An economical and rugged machine, the K1-Lab Mixer can also be used for small production work. The K1-Lab Mixers have repeatedly proven to be a minimal investment with maximum dividends in product development.
Mechanical Design Features
Removable stainless steel mixing pan with 0.5 cu.ft. capacity for easy clean up
Large viewing port on the pan cover for adding process materials, observing the mix, and taking samples during the mixing process.
Touch screen control on independent control stand
Thermocouple mix temperature reading
Dual hand safety buttons for operating mixing head
OPTIONAL FEATURES: pan heating and cooling, various rotor styles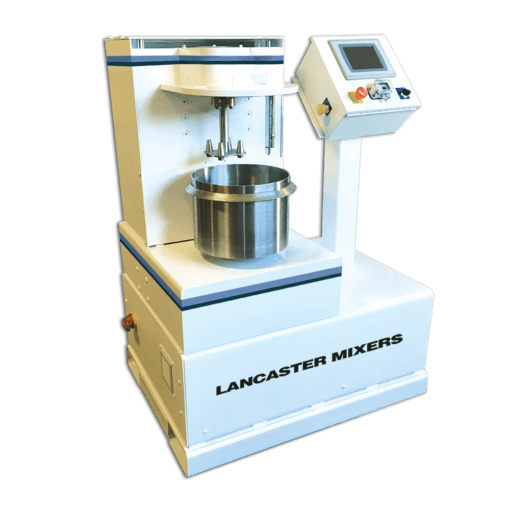 EASY TRANSITION FROM PROOF-OF-CONCEPT TO FULL PRODUCTION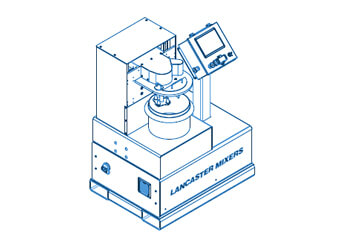 The K-1 Lab Mixer not only provides value during proof of concept testing but throughout the entire product development and production process. Scaling up to production sized volumes is seamless as the Lancaster K3-10 Series mixers operate with the same counter-current high shear mixing action as the K-1 Lab mixer. This allows for efficient transfer of process specifications requiring only minimal adjustments to the mix design. In addition, the K-1 Lab Mixer facilitates the ability to optimize formulations and experiment in smaller batches, without having to disrupt production for development work or waste large amounts of material from experimenting in a K4-K10 sized mixer.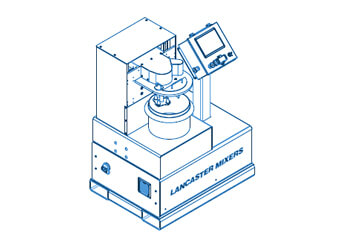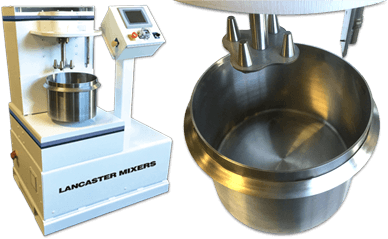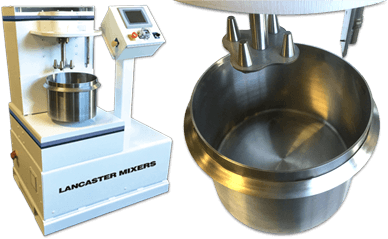 The K1-Lab Mixer has the same counter-current mixing design as all Lancaster Mixers with the clockwise rotating pan bringing material into the counterclockwise high speed rotor. The rotor and pan speed are infinitely variable.
This mixing design provides not only improved mix quality but can pelletize in one process step. In addition, processing times can be greatly reduced while providing a more homogeneous batch.
These features, combined with the rugged construction and the various styles of rotors available, make the Lancaster K1-Lab the mixer of choice for almost any type of batch mixing.
The K1-Lab Mixer is designed with a touch screen control for easy programming and data viewing. A thermal probe gives a report of temperature in real-time. There is a resettable elapsed mixing timer that provides for total mix process cycle times. A pre-programmable mix design can be input into the control. The control can also store and repeat mix cycles as well as communicate with other devices.
Features:
Electronic individually controlled speeds of pan and rotor, switchable from ft/sec to m/sec.
Timer that starts/stops with the machine.
Pre-programmable mix design times
Input or adjust pan and rotor speeds before or during operation
Data record of operating functions can be exported to a USB or other device
Pan heating and cooling available.
Attribute
Imperial
Metric
Pan Volume
0.7 cu.ft
20 Liters
Working volume
0.5 cu.ft
15 Liters
Pan motor
¾ Hp
0.6 Kw
Pan speed
Variable to 50 rpm
Rotor motor
3 Hp 2.25 Kw
Rotor speed
Variable to 3000 rpm
Weight
1100 Lbs
500 Kg
Overall Dimensions
Length 40"
100 cm
Width
30"
75 cm
Height
53"
135 cm
The K-1 Lab Mixer has the same counter-current mixing design as all Lancaster Mixers which provides improved mix quality and can pelletize in one step.
Lancaster Products also provides full-scale lab services – from proof of concept testing to large-scale toll processing – as well as equipment rental units allowing customers to try equipment in their own facilities over a period of time.

Lancaster Products
920 Mechanic Street
Lebanon, PA 17046
Local: 717.273.2111
Toll Free: 800.447.7351
© Lancaster Products
Lancaster Products High Shear Counter-Current Mixers are highly effective in their ability to mix and pelletize in one machine and one process, but Lancaster Mixers are also built to last. Many of our machines are still operating after decades of use. We continue to supply parts to many vintage year machines still in operation.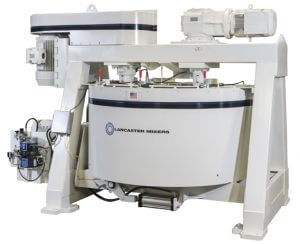 Lancaster Products machines are built with a robust construction that provides structural durability and are designed to allow for replacement of wear parts as needed to extend the operational life of our machines instead of total machine replacement. To our customers this translates to lower Total Cost of Ownership and higher return on investment than other mixers. With proper maintenance, Lancaster Products mixers are very long-lived machines.
read more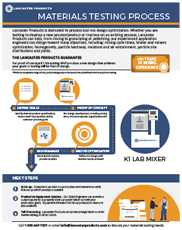 Lancaster Products is dedicated to process and mix design optimization. Whether you are looking to develop a new process/product or improve on an existing process, Lancaster Products can help. From mixing to granulating or pelletizing, our experienced application engineers can design toward many objectives, including: mixing cycle times, binder and minors optimization, homogeneity, particle hardness, moisture and air entrainment, particle size distributions and yields.
read more