Lancaster Products AutoBrik Machine includes integrated pre-pug mill/feeder, adjustable hydraulic press and pushout, and an internal mold strike off.
A brick made in a Lancaster Products AutoBrik Machine is a soft-mud brick created individually in wooden molds with a light sanding as a coloring and release agent. Water can also be used as a release agent, producing "water-struck" brick. This individual molding, combined with the unique Lancaster mold bumping system, can produce a very distinctive brick in high demand by architects and builders alike.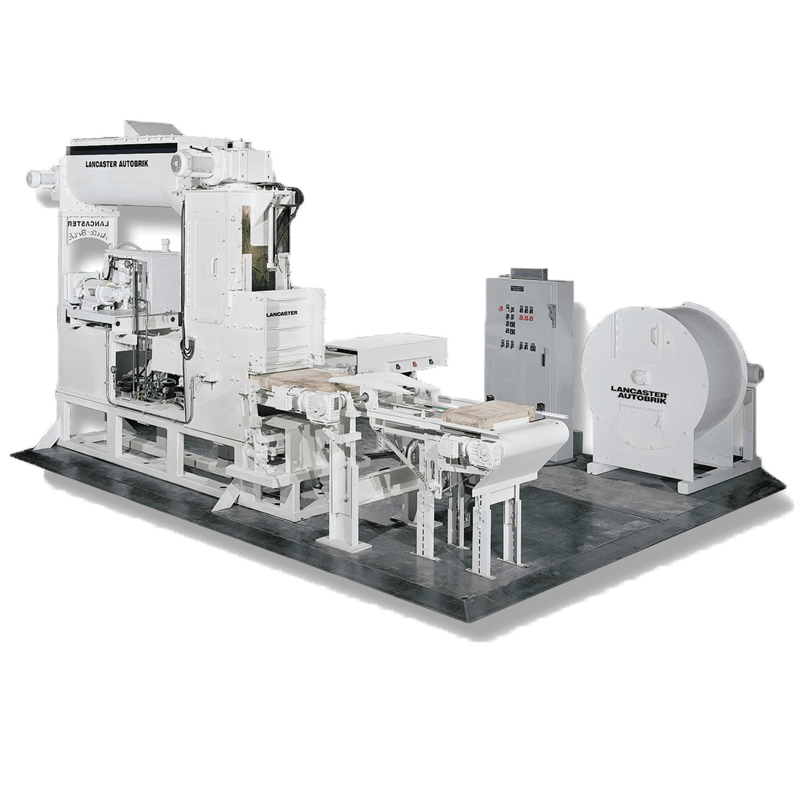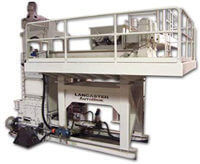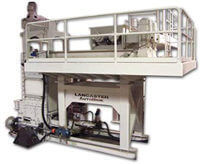 The Model 24H Lancaster AutoBrik Machine was completely redesigned in early 2000 and has subsequently had several highly successful installations. This design reduces maintenance costs and improves total operating efficiencies while maintaining the molded brick style that brick markets have come to appreciate and that brick producers have found so profitable for over 150 years.
The complete Lancaster AutoBrik Machine (ABM) Production System is under the control of an Allen Bradley/Siemens PLC based Lancaster Control System. The system has PLC controlled linear hydraulic action for the press, the pushout, and the demolding system. Individual VFD motor action has replaced the single source mechanical power of previous designs.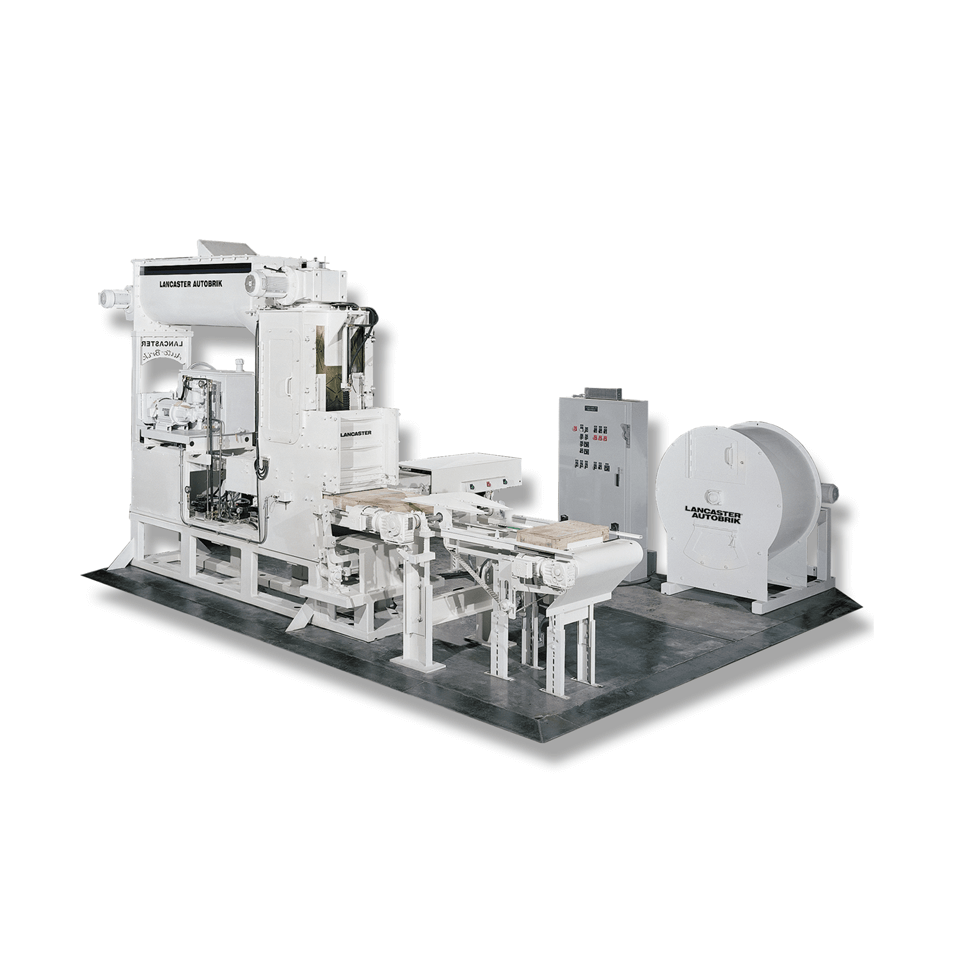 The Model 24H Lancaster AutoBrik Machine comes standard with an integrated pre-pug mill/feeder, adjustable hydraulic press and pushout, and an internal mold strike off.
The Model 24H is a PLC controlled, hydraulic operation. The PLC and simple mechanical movements allow for quick and easy adjustments to change shapes and optimize quality and production. The Model 24H accommodates very large mold boxes and can use the PLC control to fill difficult shapes by performing multiple press box fills and multiple presses. The Model 24H can be offered as a completely automated system with mold handling, pallet insertion, and dryer car loading.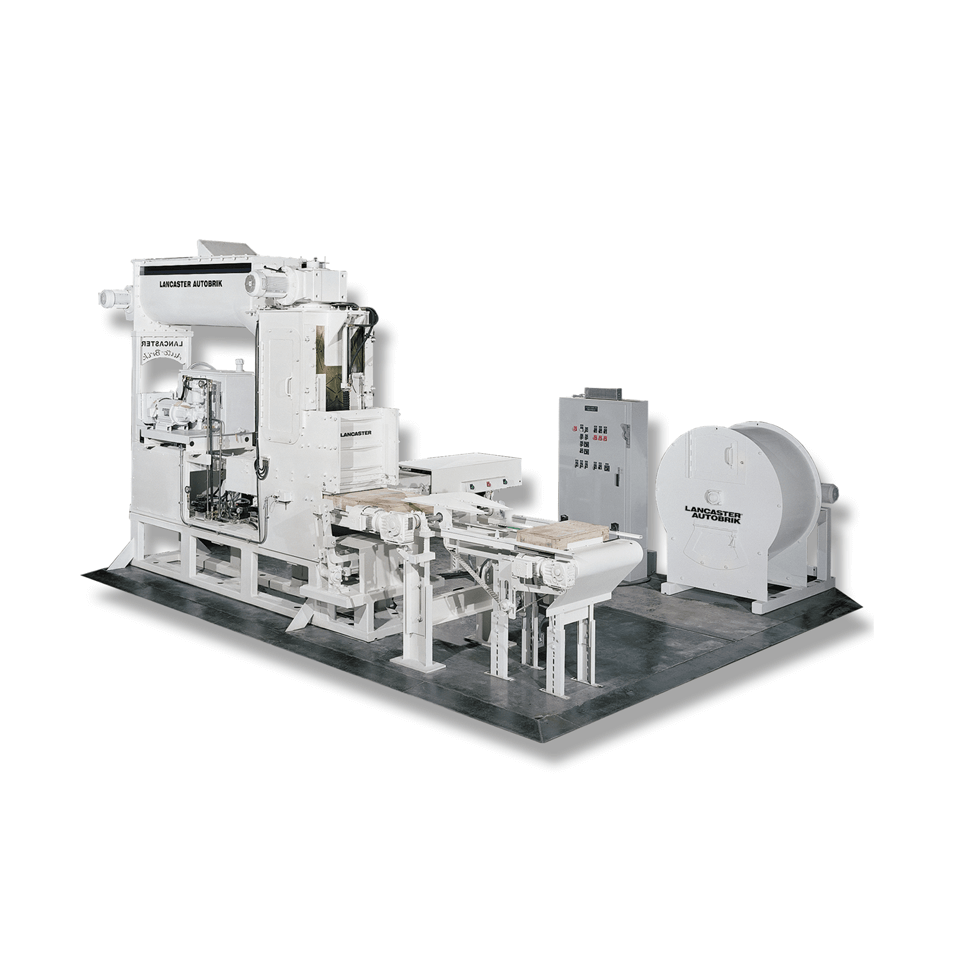 Lancaster Products
920 Mechanic Street
Lebanon, PA 17046
Local: 717.273.2111
Toll Free: 800.447.7351
© Lancaster Products
Lancaster Products High Shear Counter-Current Mixers are highly effective in their ability to mix and pelletize in one machine and one process, but Lancaster Mixers are also built to last. Many of our machines are still operating after decades of use. We continue to supply parts to many vintage year machines still in operation.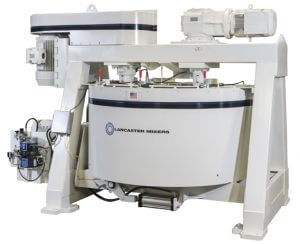 Lancaster Products machines are built with a robust construction that provides structural durability and are designed to allow for replacement of wear parts as needed to extend the operational life of our machines instead of total machine replacement. To our customers this translates to lower Total Cost of Ownership and higher return on investment than other mixers. With proper maintenance, Lancaster Products mixers are very long-lived machines.
read more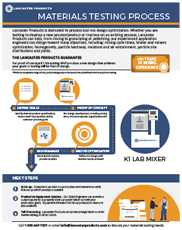 Lancaster Products is dedicated to process and mix design optimization. Whether you are looking to develop a new process/product or improve on an existing process, Lancaster Products can help. From mixing to granulating or pelletizing, our experienced application engineers can design toward many objectives, including: mixing cycle times, binder and minors optimization, homogeneity, particle hardness, moisture and air entrainment, particle size distributions and yields.
read more