Lancaster Products can provide a single source of design, fabrication, installation and supervision for a complete processing system.
At Lancaster Products, we are experts in mixer system design. Our staff of mechanical and application engineers design systems from the mixer out – ensuring that the inputs are being properly delivered and the mixer product is transported efficiently. From the very simple to the complex mixer system design, Lancaster Products has the experience to deliver completely integrated systems optimized to work with a Lancaster Mixer.
In addition to the products in our extensive portfolio, we work with a variety of partners, including valve manufacturers, ducting, drying, conveying, metering and controls providers to design custom systems to meet your material processing needs. We partner with a variety of structural, installation and system integrators who have deep experience with Lancaster Products systems in order to provide true turnkey solutions.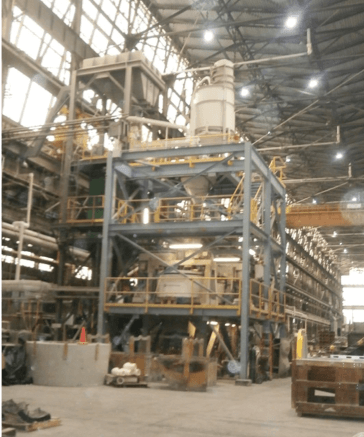 Main areas of plant and system design:
Raw material handling equipment and technology
Batch preparation to include weighing and dosing control
Complete control system design and integration to ensure all parts of the system work together
Call 1-800-447-7351 or Contact Us to talk to a Lancaster Products Representative about your system design needs.

Lancaster Products
920 Mechanic Street
Lebanon, PA 17046
Local: 717.273.2111
Toll Free: 800.447.7351
© Lancaster Products
Traditional processes for manufacturing fertilizer require many steps and different types of equipment. It is common for systems to include multiple dryers, a mill/pulverizer for size reduction of dried material, pin mixer/pug mill for mixing of additives and raw materials, a pelletizer and multiple conveyors to facilitate the process. If this seems like a complex process that requires high levels of work, energy and maintenance, we agree.
Lancaster Products engineers can optimize existing complex fertilizer pelleting processes or design new streamlined systems to help you realize multiple benefits, including a reduction in physical footprint and an improvement in the characteristics and reproducibility of your pelletized product. By utilizing a Lancaster Products K-Series High Shear Mixer to replace a mill and disc pelletizer, you not only reduce system complexity but also gain the ability to begin processing with raw materials at higher moisture levels. The counter-current mixing action in a Lancaster Mixer allows for one-step mixing and pelletizing with rapid mix times.

read more
Since the introduction of the original K-series mixer in 1986, Lancaster Products High Shear Mixers have been designed to produce the best mixing and pelletizing results for our customers. Lancaster Mixers superior performance is due to our multi-tool configuration, counter current mixing action and variable tooling speed capability.
Multi Tool Configuration
Lancaster Mixers can be configured with three independent variable speed mixing tools: the mixing rotor, the plow and the rotating pan. These three tools work in concert to provide the best mixing results. The primary mixing tool is the high-speed rotor. The plow and rotating pan both work to move material into the main rotor's path. The three mixing tools are so efficient at mixing, there are no dead spots inside of the mixing cavity and every piece of material passes through the mixing rotor every few seconds. Additionally, a sidewall scraper is positioned against the pan sides to prevent caking and buildup of material on the pan itself.
read more