Our 75,000 sq. ft. full-service facility is located in Lebanon, PA, and has been a leader in the industry since 1945. When doing business with Lancaster Products, you can be sure that your products will be delivered on time, with competitive pricing and with quality. We take great pride in our work, and ensure that your expectations will be met, or exceeded.
At Lancaster Products, we are proven leaders in the industry providing a variety of services for our clients including:
Machining
Laser cutting
Fabricating
Welding
Engineering
Assembly
We have the capabilities to be your one-stop shop for projects that include:
CNC Machining/Turning
High Precision/Quality Laser Cutting
Welding Services (MIG, TIG, Stick, Spot, Stud)
Welded Fabrications of all sizes
Repair/Rebuilding work
Equipment and Parts/Design Services
Equipment assemblies
Specialized applications
Painting
For additional help or information, please call us at 717-273-2111.
Call 1-800-447-7351 or
[javascript protected email address]

to talk to a Lancaster Products Representative about your pelletizing needs.

Lancaster Products
920 Mechanic Street
Lebanon, PA 17046
Local: 717.273.2111
Toll Free: 800.447.7351
Email: [javascript protected email address]
Office Hours:
Mon - Fri: 8:00 am - 5:00 pm
The high-speed rotor is the primary mixing and pelletizing tool in industrial high shear mixers and in many ways, it is the most utilized part of the machine. But rotor wear is also a good leading indicator of your machine's overall operating condition as it is a direct result of material processing. Chances are, if the rotor is worn, there is other preventative maintenance to be done.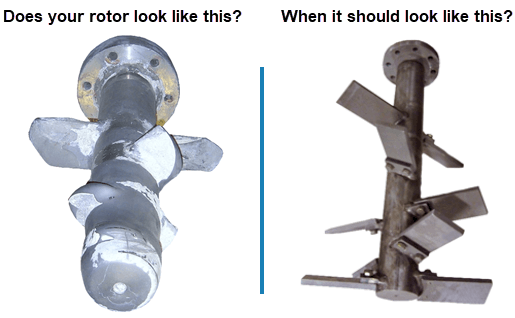 read more
Industrial mixers are built to run and withstand a great deal of abuse, however, regular preventive maintenance efforts can help keep your mixer running like new. The two most critical components that can affect the life of your mixer are lubrication and inspection of working tools. Below is an overview of the in-depth information provided in our full maintenance schedule available for download below.

Lubrication: Proper lubrication can encompass multiple areas on your mixer, not just the shaft seals of the mixing tool. Lubrication of all seals as well as drive gears, discharge valves and other locations where bearings are utilized is the best way to extend the life of your mixer. Automated lubrication systems on larger production mixers help maintain proper lubrication intervals, but regular visual inspection should be scheduled to assure the system is working properly.
read more