Lancaster High Shear Mixers are used extensively in the blending, mixing and granulation of powder metallurgy raw materials. Our mixers can be used to granulate the raw metal powders to ensure a homogeneous mixture.
The powders can also be granulated in the mixer to provide uniform mixtures and a more uniform flow into the press mold. This translation can be done under atmospheric conditions or even an inert gas blanket when required. The upper pan seal on the Lancaster Mixer allows the mixing pan to be purged with inert gas. Inert gas leakage is minimized by concentrically machined rings that make up the grease filled labyrinths seal arrangement.
This granulation process can improve the overall quality of thru parts pressed and also increase the density of the powder before pressing. This increased density prior to pressing results in a higher density and stronger part after pressing.
recover the waste streams
The Lancaster High Shear Mixer can be used to recover the waste streams and dust from a steel mill. These waste streams can include floor sweeping, dust collected from the cupola and other general bag house dust collected throughout the process. These materials can then be combined and blended with a binding agent to allow reintroduction into the melting furnace.
The Lancaster High Shear Mixer can be used to blend and begin the graduation process for the production of iron ore pellets. Blending the iron ore with the bentonite prior to entering the standard balling drum will ensure a more homogeneous mixture, thus resulting in a reduction in the amount of bentonite required to create the iron ore pellets. A reduction in bentonite usage will result in a significant cost saving in the production of green iron ore pellets.
Call 1-800-447-7351 or
[javascript protected email address]

to talk to a Lancaster Products Representative about your metallurgy needs.

Lancaster Products
920 Mechanic Street
Lebanon, PA 17046
Local: 717.273.2111
Toll Free: 800.447.7351
© Lancaster Products
Lancaster Products High Shear Counter-Current Mixers are highly effective in their ability to mix and pelletize in one machine and one process, but Lancaster Mixers are also built to last. Many of our machines are still operating after decades of use. We continue to supply parts to many vintage year machines still in operation.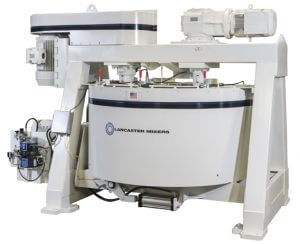 Lancaster Products machines are built with a robust construction that provides structural durability and are designed to allow for replacement of wear parts as needed to extend the operational life of our machines instead of total machine replacement. To our customers this translates to lower Total Cost of Ownership and higher return on investment than other mixers. With proper maintenance, Lancaster Products mixers are very long-lived machines.
read more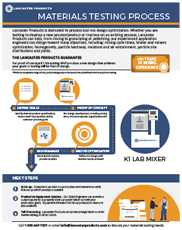 Lancaster Products is dedicated to process and mix design optimization. Whether you are looking to develop a new process/product or improve on an existing process, Lancaster Products can help. From mixing to granulating or pelletizing, our experienced application engineers can design toward many objectives, including: mixing cycle times, binder and minors optimization, homogeneity, particle hardness, moisture and air entrainment, particle size distributions and yields.
read more