Ensuring Maximum Performance of Your Lancaster Mixer
Lancaster Products has been the industry leader for mixing and material handling solutions for more than 30 years. Because Lancaster Products are built to last, our commitment to our customers extends well beyond the warranty period. We place an emphasis on keeping our customer's machines running well with our factory genuine spare parts and maintenance services.
MAINTENANCE AND REPAIR SERVICES
Lancaster also offers field maintenance and repair services. Our service technicians are intimate with Lancaster Products machines and can efficiently repair and service at your location minimizing downtime while ensuring that your Lancaster machine is operating at peak performance.
No one knows your Lancaster Mixer better than us. Lancaster Products Technicians can be deployed to your site for minor repairs or major upgrades. Older machines can machines can be modernized to include the latest technology or repaired to run as good as new.
Representative Spares list
Mixer tooling
Seals
Drive components
Bearings
Valves
Liners
LANCASTER PRODUCTS GENUINE PARTS
The failure of component parts can cause costly disruptions and delay production schedules. Lancaster Products provides a full array of factory genuine replacement parts specifically designed and specified for the Lancaster Machine. All Lancaster Products parts must pass stringent quality requirements to ensure high performance standards. Using Lancaster Products genuine spare parts and services avoids problems such as premature failure and lower performance that might be experienced with a third-party part.
Employing Lancaster Products factory spare parts has proven to be the best way to protect your investment from poor performance. All our parts are designed to work together seamlessly to provide superior and sustainable performance, ensuring your machine operates as well as the day it was installed. In addition, we recommend keeping high wear parts in stock to ensure minimal downtime. We stock a full range of replacement parts that can be quickly deployed anywhere in the world our equipment may reside.
Call 1-800-447-7351 or email [javascript protected email address] to talk to an Aftermarket Specialist about spare parts and service needs

Lancaster Products
920 Mechanic Street
Lebanon, PA 17046
Local: 717.273.2111
Toll Free: 800.447.7351
© 2019 Lancaster Products
January 4, 2019
For Immediate Release

LEBANON, Pennsylvania – The new and completely redesigned website offers visitors richer insight into the Company's high efficiency mixing, pelletizing and crushing solutions for a wide variety of industries and materials.
read more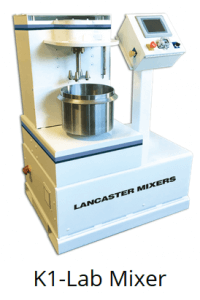 Our last post focused on our experience in concept testing and how it applies to our high shear mixer sample testing process. This post will dig in a little deeper and provide insight into the breadth of data we provide to our customers when they commission Lancaster Products to provide sample testing for them.
Over the past 30 years, we have collaborated with our customers to perform proof of concept testing in our K1 laboratory mixers for thousands of materials samples. The desired outcome of the testing is customer dependent but typical requirements are along the lines of pelletizing/granulating to specific size ranges and desired yields, mixing to achieve homogenization, or reduced reaction times of existing processes. Outcomes provided are 1) proof of concept in achieving the desired product, and/or 2) optimization of the current mix processes. Our engineers perform the tests in our controlled laboratory, log all key information in our database, and share all data with our customers for future reference. Below is a list that summarizes some of the information we collect during every test run we perform:
read more