Our 75,000 sq. ft. full-service facility is located in Lebanon, PA, and has been a leader in the industry since 1945. When doing business with Lancaster Products, you can be sure that your products will be delivered on time, with competitive pricing and with quality. We take great pride in our work, and ensure that your expectations will be met, or exceeded.
At Lancaster Products, we are proven leaders in the industry providing a variety of services for our clients including:
Machining
Laser cutting
Fabricating
Welding
Engineering
Assembly
We have the capabilities to be your one-stop shop for projects that include:
CNC Machining/Turning
High Precision/Quality Laser Cutting
Welding Services (MIG, TIG, Stick, Spot, Stud)
Welded Fabrications of all sizes
Repair/Rebuilding work
Equipment and Parts/Design Services
Equipment assemblies
Specialized applications
Painting
For additional help or information, please call us at 717-273-2111.
Call 1-800-447-7351 or
[javascript protected email address]

to talk to a Lancaster Products Representative about your pelletizing needs.

Lancaster Products
920 Mechanic Street
Lebanon, PA 17046
Local: 717.273.2111
Toll Free: 800.447.7351
© 2019 Lancaster Products
January 4, 2019
For Immediate Release

LEBANON, Pennsylvania – The new and completely redesigned website offers visitors richer insight into the Company's high efficiency mixing, pelletizing and crushing solutions for a wide variety of industries and materials.
read more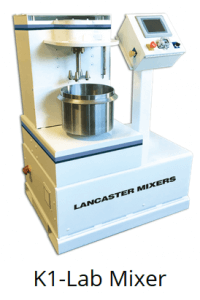 Our last post focused on our experience in concept testing and how it applies to our high shear mixer sample testing process. This post will dig in a little deeper and provide insight into the breadth of data we provide to our customers when they commission Lancaster Products to provide sample testing for them.
Over the past 30 years, we have collaborated with our customers to perform proof of concept testing in our K1 laboratory mixers for thousands of materials samples. The desired outcome of the testing is customer dependent but typical requirements are along the lines of pelletizing/granulating to specific size ranges and desired yields, mixing to achieve homogenization, or reduced reaction times of existing processes. Outcomes provided are 1) proof of concept in achieving the desired product, and/or 2) optimization of the current mix processes. Our engineers perform the tests in our controlled laboratory, log all key information in our database, and share all data with our customers for future reference. Below is a list that summarizes some of the information we collect during every test run we perform:
read more