The Lancaster Products KT Pneumatic Transporter is a low-priced, unique, semi-dense phase pneumatic material transporter.
The Lancaster Products KT Pneumatic Transporter is perfect for moving material from a staging area inside or outside your plant (a bag breaker hopper, bulk bag unloader, loaded hopper or a storage silo) to an internal day bin near your processing area.
The KT Pneumatic Transporter is great for difficult access places, such as removing excess material from press pits and is also efficient in recycling material captured in baghouses. The small unit has only one moving part, uses relatively little compressed plant air, has a simple control, uses standard 2-inch pipe and is capable of moving up to three tons of material per hour.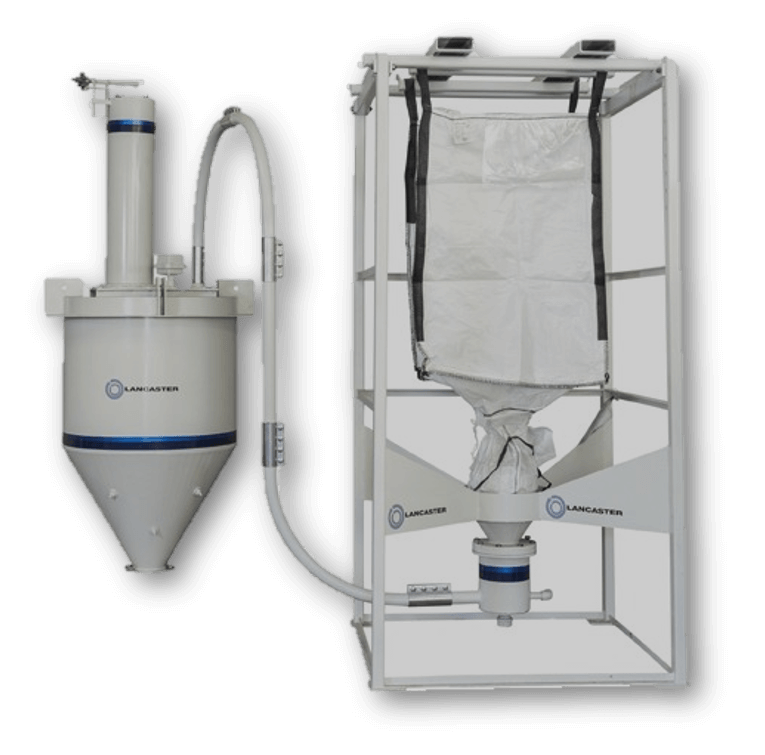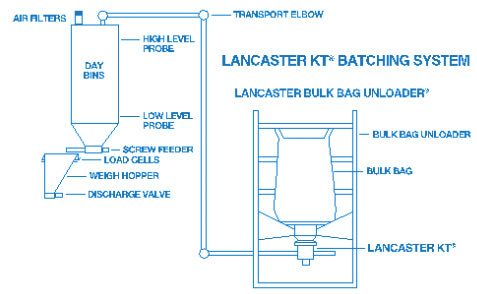 The operation of the Lancaster Products KT Transporter is extremely efficient. The Lancaster Products KT Transporter is positioned under the bag breaking station, bulk bag, silo, etc. The KT Transporter fills with material, then a short blast of air (less than one second) is piped into the KT.
The heart of the Lancaster KT Transporter is its only moving part – the machine-tapered plunger. This plunger normally rests on top of a small pipe. The pipe and the plunger are located within a larger diameter steel cylinder. During operation, the plunger cycles upward when air is introduced, contacting a rubber seal. When air stops, the plunger falls to its rest position and the cylinder fills with material.
This raises the cone inside the KT Transporter, sealing the filling opening. Excess air forces a "plug" of material out of the KT Transporter into the delivery pipe. The air stops and the cone drops. Material again fills the KT ready for the next "puff" and another plug of material is forced down the pipe. These plugs of material continue to travel through the small diameter pipe – all at relatively low velocities and fluidization. When material gets to an elbow, it partially fills the elbow until it exits the other opening. The material essentially forms its own elbow, thus reducing wear of the existing elbows.

Lancaster Products
920 Mechanic Street
Lebanon, PA 17046
Local: 717.273.2111
Toll Free: 800.447.7351
© 2019 Lancaster Products
January 4, 2019
For Immediate Release

LEBANON, Pennsylvania – The new and completely redesigned website offers visitors richer insight into the Company's high efficiency mixing, pelletizing and crushing solutions for a wide variety of industries and materials.
read more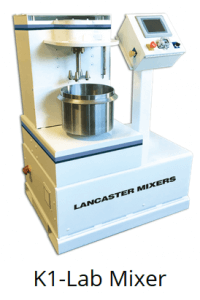 Our last post focused on our experience in concept testing and how it applies to our high shear mixer sample testing process. This post will dig in a little deeper and provide insight into the breadth of data we provide to our customers when they commission Lancaster Products to provide sample testing for them.
Over the past 30 years, we have collaborated with our customers to perform proof of concept testing in our K1 laboratory mixers for thousands of materials samples. The desired outcome of the testing is customer dependent but typical requirements are along the lines of pelletizing/granulating to specific size ranges and desired yields, mixing to achieve homogenization, or reduced reaction times of existing processes. Outcomes provided are 1) proof of concept in achieving the desired product, and/or 2) optimization of the current mix processes. Our engineers perform the tests in our controlled laboratory, log all key information in our database, and share all data with our customers for future reference. Below is a list that summarizes some of the information we collect during every test run we perform:
read more