Lancaster Products manufactures high shear mixers for the efficient preparation of bentonite bonded molding sand. The Lancaster low intensity muller style mixers are used for molding sand preparation in the foundry industry.
A complete molding sand system design and supply by Lancaster Products can provide a single source solution for the end foundry user. Click here to learn more about our high shear mixers.
The advantages of the Lancaster Products system:
Excellent flowability of mixed sand
Uniform strength values due to the consistent mixing process
Compactability requirements for the sand can be met on a consistent basis
Distribution of water in an efficient manner when added to the mixture
Consistent mixing of the return sand, additives and new sand in the Lancaster High Shear Mixer
Call 1-800-447-7351 or info@lancasterproducts.com to talk to a Lancaster Products Representative about your sand or foundry needs.

Lancaster Products
920 Mechanic Street
Lebanon, PA 17046
Local: 717.273.2111
Toll Free: 800.447.7351
© 2019 Lancaster Products
January 4, 2019
For Immediate Release

LEBANON, Pennsylvania – The new and completely redesigned website offers visitors richer insight into the Company's high efficiency mixing, pelletizing and crushing solutions for a wide variety of industries and materials.
read more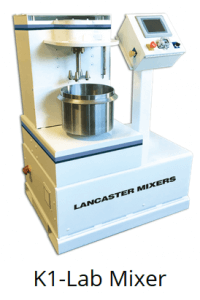 Our last post focused on our experience in concept testing and how it applies to our high shear mixer sample testing process. This post will dig in a little deeper and provide insight into the breadth of data we provide to our customers when they commission Lancaster Products to provide sample testing for them.
Over the past 30 years, we have collaborated with our customers to perform proof of concept testing in our K1 laboratory mixers for thousands of materials samples. The desired outcome of the testing is customer dependent but typical requirements are along the lines of pelletizing/granulating to specific size ranges and desired yields, mixing to achieve homogenization, or reduced reaction times of existing processes. Outcomes provided are 1) proof of concept in achieving the desired product, and/or 2) optimization of the current mix processes. Our engineers perform the tests in our controlled laboratory, log all key information in our database, and share all data with our customers for future reference. Below is a list that summarizes some of the information we collect during every test run we perform:
read more