Traditional processes for manufacturing fertilizer require many steps and different types of equipment. It is common for systems to include multiple dryers, a mill/pulverizer for size reduction of dried material, pin mixer/pug mill for mixing of additives and raw materials, a pelletizer and multiple conveyors to facilitate the process. If this seems like a complex process that requires high levels of work, energy and maintenance, we agree.
Lancaster Products engineers can optimize existing complex fertilizer pelleting processes or design new streamlined systems to help you realize multiple benefits, including a reduction in physical footprint and an improvement in the characteristics and reproducibility of your pelletized product. By utilizing a Lancaster Products K-Series High Shear Mixer to replace a mill and disc pelletizer, you not only reduce system complexity but also gain the ability to begin processing with raw materials at higher moisture levels. The counter-current mixing action in a Lancaster Mixer allows for one-step mixing and pelletizing with rapid mix times.

read more

Lancaster Products
920 Mechanic Street
Lebanon, PA 17046
Local: 717.273.2111
Toll Free: 800.447.7351
© Lancaster Products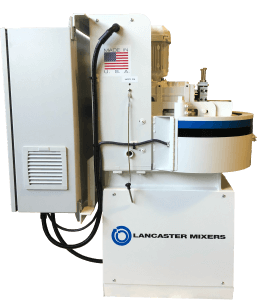 We are excited to announce several recent improvements to the design of our low shear mixer product line. These mixers are often pushed beyond the limits of other mixers due to their widespread use in mixing dusty, abrasive, corrosive, highly viscous or explosive materials. The enhancements listed below were designed to improve the performance of our low shear mixers and to minimize maintenance and repair costs, which lowers the overall lifetime cost of ownership for our clients.
Split drivetrain: pan and tooling on separate drives
The counter-rotating pan and tooling are now operating on separate drives allowing for individual control of tool and pan speeds. This simple split drive design provides increased flexibility to customize mixing recipes for different materials as compared to a single vertical shaft. Maintenance and trouble- shooting of issues relating to the pan or tooling also become easier.
read more
BRADLEY PULVERIZER ACQUIRED BY LANCASTER PRODUCTS OWNER
Allentown, Pennsylvania, January 17th, 2020 – Bradley Pulverizer is pleased to announce new ownership. Lancaster Products & Kercher Enterprises' owner Curt Snyder acquired the assets of Bradley Pulverizer through an affiliate effective on January 14th, 2020. Bradley Pulverizer specializes in the design, manufacture, and supply of pulverizing systems for fine and semi-fine grinding of hard, friable, abrasive materials for various applications throughout the world.
read more